Lead Slingers Outdoor Fishing & Bowfishing Guide Customer Reviews
Ratings & Reviews Summary -
5.0027 reviews
It was a great trip. Not many guides will take out one angler. It was nice to have his full attention to learn how to do this type of fishing. I'll be back. 
no more
ZF
Zachary Foerster
March 29, 2023
Great day. We came out with 4 people and he put us right on top of the fish. Caught 4 limits in 3 hrs and had blast doing it. He even showed the kids tricks on holding fish and taking hooks out. We will be back for sure!!!
Read More
CW
Chance White
February 5, 2023
Went out with Brandon today and although the bite was slow and we never really found what we where looking for, we managed to pull out all the stops and put 60 fish in the boat. Brandon is a well Knowledge fishing guide that can put you on the fish no matter the weather. Give hime a call today to book your trip of a lifetime!
no more
MN
Mary Neff
December 6, 2022
Captain Brandon was amazing! He was very knowledgeable and great with the kids! We would love to book another trip with him.
no more
CW
Chance White
November 21, 2022
Took my guys out with Brandon on 11/18/22 and it was cold, the north wind was blowing hard, but he managed to pull out all the stops and we killed it . Brandon is an awesome guide that cares about his customers and strives to make you the best fisherman you can be. Book with him for a trip of a lifetime! You won't regret it!
no more
MO
Michael Oti
August 16, 2022
Very nice trip. We caught a lot of fish and had a blast.
no more
CW
Courtney Whigham
June 17, 2022
This was a great trip. The guide was spot on. The fishing was awesome.
no more
FM
Francis Maxwell
May 20, 2022
Had a blast with Brandon. Great guide. My wife who fished for the first time caught a lot of fish. Brandon is passionate about his work. I'll be bringing my extended family this summer.
Read More
CC
Chase Chenault
April 30, 2022
10 out of 10 recommend Brandon if you like to catch a bunch of fish! He's dedicated, and will work endlessly to put you on top of the fish. I've never limited out on any fishing trip I've ever been on and he did not quit till we got every single one. I will definitely be a repeat customer!
no more
MT
Marshall Tenery
April 23, 2022
Best guide service I've been on by far. Will only use leqdslingers forsure!! Limited out with my friends and I and received the fish cut and ready to cook. Thank you Brandon.
Read More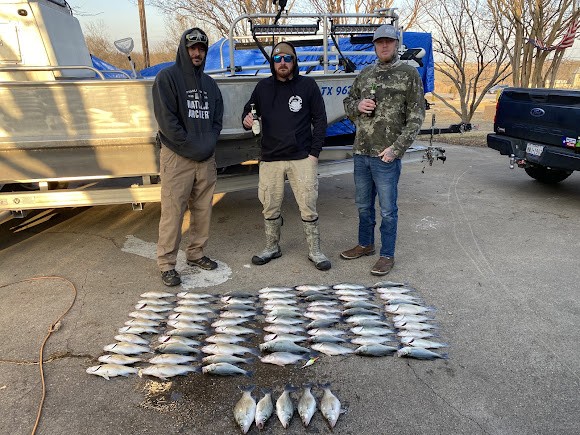 MC
Mohammed Chowdhury
April 17, 2022
It was an excellent fishing trip 
no more
SA
Steve Axelrod
April 12, 2022
We met Brandon at the marina about 7:15am where he was already launched and waiting on us. After checking out a couple of spots on the lake, we found some fish and started catching. Around 3:30, all 5 of us had caught our limits! Brandon was an excellent guide and knew exactly where the fish were hanging out. He uses Garmin electronics with the Live Scope transducer. It was very interesting to see this fish locating technology in use by someone that truly knows how to use it! It really is like fishing combined with a video game! After a fun day of fishing, Brandon cleaned and bagged all 125 fish! It's a good thing Brandon loves what he does for a living. If you are looking for a guide that will put you on the fish, give Brandon at Texas Lead Slingers a call. You won't be disappointed!
Read More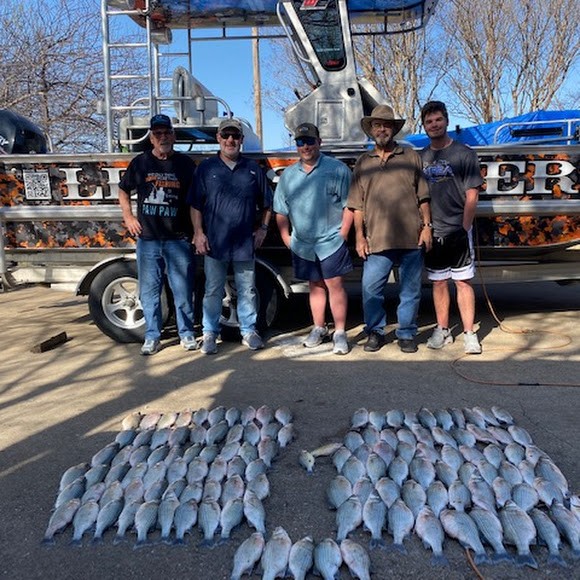 JC
Jim Chambers
March 18, 2022
Great trip. Brandon will put you on the fish 
no more
RB
Reggie Buenviaje
November 27, 2021
Had a great time with Lead Slinger. Awesome dude. Great guide. I highly recommend him for your next fishing adventure.
no more
Probably the best fishing trip I have been on. I had my kids with me and Brandon was patient, kind and very knowledgable. We caught more fish than I could imagine. We will be eating for months. Thanks again man see you soon.
no more
Fishing is Not a Sport- it's A Way of Life
When it comes to finding a reliable fishing guide in Dallas, Texas Lead Slingers and Brandon Sargent are among the best in the industry. Our reviews from past customers speak volumes about our expertise, knowledge and exceptional services when it comes to crappie, bass and catfish fishing.
We have received numerous five-star reviews from satisfied customers who have enjoyed a memorable fishing experience with us. Brandon Sargent knows where to find the best catches, and he goes above and beyond to ensure that you have an enjoyable time on the water. He offers customized packages tailored to your needs; whether you're looking for a relaxing day out with your family, or an adventure-packed trip with your friends, he's got you covered.
Don't just take our word for it - check out our glowing reviews from satisfied customers who have fished with us in the past.